A BuffaLOVELY Wedding
I was born in Buffalo, but my parents moved us to Florida when I was just 4 years old. Coral Springs, to be exact and while it was a great place to live back then and I made a TON of lifelong friends, my heart was never in Florida. Buffalo had stolen my heart at a very young age and for twenty-five very long years, I yearned to move back.
After attending college in Boca Raton, FL (Florida Atlantic University, I'm lookin' at you. Hoot.), I started an Etsy shop, semi-accidentally, after designing the very first "Will you be my bridesmaid?" card for one of my best friends to ask her bridesmaids to be in her wedding party. Her friends loved the idea and so I popped that bad boy card right into an Etsy shop of mine that had already existed and was housing handmade items such as pillows and picture frames and BAM. That was that. That card sold like wildfire and before I knew it, I was designing more and more cards along those lines and I had a LOT of people stealing my idea. Unfortunately, you can't patent it, so I have to have the "the more the merrier" mentality, as hard as that is sometimes. I was designing cards for the ladies, for men, for your flower girls and ring bearers. Before I knew it, I had myself a little business that was internet based and I was able to move ANYWHERE.
So, I chose Buffalo. I chose the place that has the best community that I have ever come across. The place where your neighbors say hello and plow your driveway when they know you're sick or elderly, people hold the door and say hello when you pass them in the street. They have a genuine kindness, that is one that I was never able to find in all those years living in Florida. Sure, it helped that I have the most amazing grandparents in Buffalo and, albeit a very small number of family members, they counted and I made the big move on July 1st, 2013.
Just 6 months later, I met the man of my dreams (hi, lovebug!) and we were engaged about a year later.
Then came the fun part. Designing EVERYTHING for the wedding. My favorite part? That my husband loves Buffalo as much as I do, so having a BuffaLOVE "theme" was obvious. Plus, my entire side of wedding guests were traveling from anywhere but Buffalo and I wanted them to get a real feel for our city. So, it began with the invitations. We had a Buffalo faintly in the background, with a return address Buffalo stamp, sponge candy as favors, Anderson's frozen custard for dessert and boxes in each hotel room to greet our out-of-towners. All designed by your's truly.
And the Shout song, because, duh.
When I designed our invitations, I wanted them to have soft colors and be as romantic and warm as our reception room in the Hotel LaFayette. The faint Buffalo is my favorite touch.
Our welcome boxes for out-of-towners included Weber's mustard, Frank's hot sauce and a coaster from Cole's, where we had our 2nd date. They also included a door hanger and a special note from the bride and groom.
"Fowler's Sponge Candy, because we BuffaLOVE you"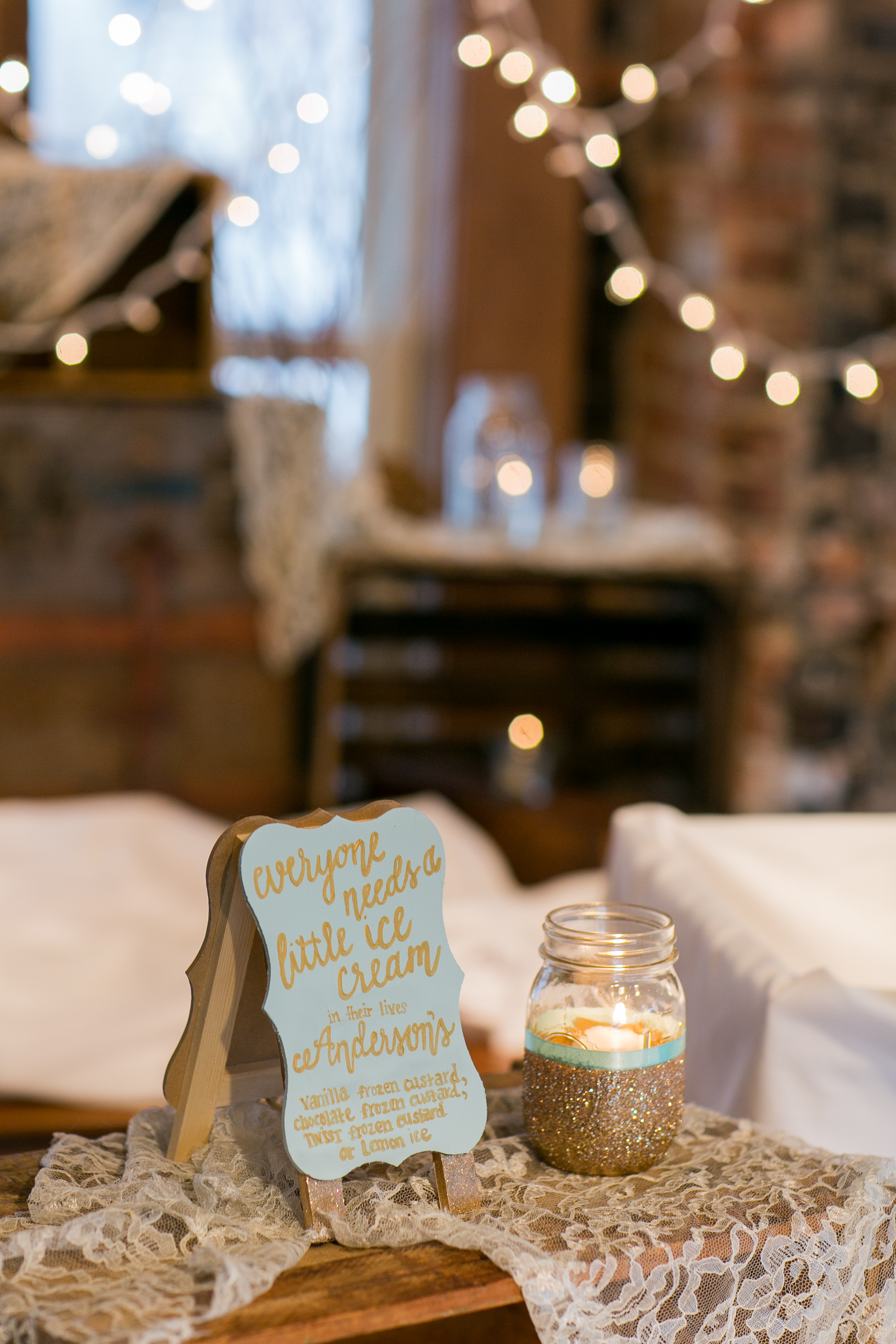 A hand lettered sign, featuring Anderson's flavors. A Buffalo tradition.
I have tons more wedding photos to share (all photos were taken by the BREATHTAKINGLY AMAZING, Alexandra Elise Photography) but will do so all in good time and in other blog posts, so consider this just a little sneak peek into what I designed and made come to life.
For now, I will tell you that if you are local to the Buffalo area, I am HAPPY to jump in and start designing for you. Whether your wedding will be Buffalo themed or not, I can't wait to begin and am already planning your dream stationery and all of your wedding paper goods. I have TONS of ideas and I can't wait to make them come to life. So, go ahead and contact me. I can't wait to meet you!